Downtown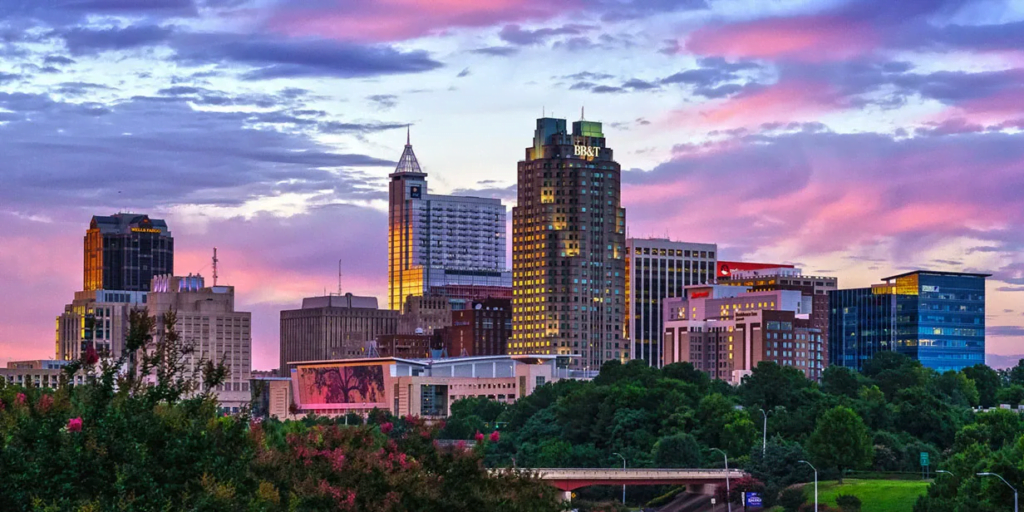 This is the obvious option if you want the hustle and bustle, but it's also a good option if you want to do as little driving as possible over your visit. There are tons of places to eat, drink, and points of interest in downtown Raleigh. Additionally, if you look to spend some time at Galaxy Con, then downtown is a great option. If you're a VIP ticket holder then attending a VIP Party at Marbles Museum becomes even easier! And lastly, it's an easy 8-10 minute drive or Uber from downtown Raleigh to The Ritz.
Pros
Proximity to excellent restaurants and bars
Walkable location
Easy access to VIP Party
Cons
An AirBnB in the area will do the trick or these hotels are good options:
North Hills OR Crabtree Valley
Both of these are malls just north of downtown Raleigh. They are each right off the 440 beltway and have easy access to getting to The Ritz. These are options that pull you away from the downtown scene but still allow you quick access to plenty of restaurants and shopping options. These spots are way more car reliant however and are perhaps their biggest con. However, if you're renting a car or driving in then these could be great options. It's an 8-10 minute drive to The Ritz and a 15-minute drive to downtown Raleigh from either of these areas.
Pros
More lodging options at different price points
Good food and shopping options
Cons
Very car dependent
Traffic can get hectic in that immediate area
Good hotel options in the area are:
Crabtree Valley
Homewood Suites by Hilton Raleigh-Crabtree Valley
Residence Inn by Marriott Raleigh Crabtree Valley
Hilton Garden Inn Raleigh /Crabtree Valley
North Hills
Renaissance Raleigh North Hills Hotel
AC Hotel by Marriott Raleigh North Hills
Hyatt House Raleigh North Hills
Near the Venue
If your weekend in Raleigh, NC is 100% NPC and nothing else, then staying by the venue gives some good options. You'll be close to the venue while still having some good amenities nearby with Torchy's Tacos being a highlight for any non-Texans coming into town! The Ritz is in the Midtown East area just north of downtown Raleigh. 
This is still a fairly car-dependent area, but walking to the venue and amenities is technically feasible and relatively easy, just be diligent of traffic as cars are zipping around on some main roads.
Pros
Right next to the venue
Lodging options at different price points
Cons
Not as bopping of a spot, but still cool!
Hotels to stay at in this are:
AirBnBs
And of course, AirBnBs are a very valid form of lodging! AirBnBs in any of the areas we highlighted above share the same pros and cons so you can keep those in mind when scoping out spots. Anywhere else will come with its own new set of variables (positive and negative). If you are looking at a spot and are unsure of it, feel free to contact us at info@nerdcoreparty.com and we (who are locals) can let you know about it so you can book with confidence!
*****
WE LOOK FORWARD TO WELCOMING YOU TO RALEIGH AND LOOK FORWARD TO SEEING YOU AT NPC 2023! GET YOUR TICKETS HERE TODAY!